AWARD WINNING
Our innovative range of premium hot tubs have received multiple awards from the likes of Real Homes and T3.
UP TO 2 YEAR WARRANTY
Our hot tubs are covered by our extensive 2 Year warranty, so you have complete peace of mind.

DEDICATED SUPPORT TEAM
We're always here to help & offer advice with our dedicated UK based Aftersales Support Team.

QUICK & EASY 10 MINUTE SET UP
All Lay‑Z‑Spa models are inflatable and portable. Requiring no professional installation or tools.
INTRODUCING THE LAY‑Z‑SPA MALDIVES HYDROJET™

COMFORTABLY FITS UP TO 7 PEOPLE
The Lay‑Z‑Spa Maldives comfortably seats 5‑7 people, making it perfect for families. Channel those relaxing holiday vibes in style, with this spacious square spa.

40°C RAPID HEATING SYSTEM
The Maldives' intelligently designed pump is able to rapidly heat the water up to a blissful 40°C. Able to precisely select the temperature you desire using the digital pump, you can enter your spa knowing it is perfectly setup ready for you to enjoy. The pump's technology also enables you to heat the water, run the AirJet™ massage system and filter the water continuously.

HYDROJET PRO™ MASSAGE SYSTEM ‑ 8 HYDROJETS™ & 180 AIRJETS™
The Maldives also features the renowned Lay‑Z‑Spa Hydrodynamic massage system which includes 8 directional and flow‑adjustable HydroJets™ and 180 all‑surrounding AirJets™. Utilising the digitally controlled pump with soft‑touch control panel, you can decide to combine both invigorating massage systems or experience them individually.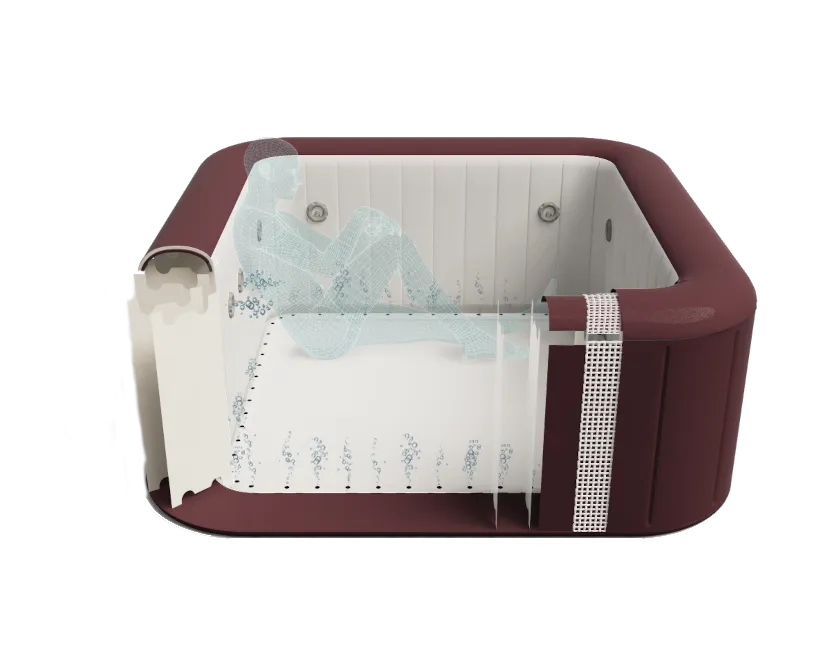 INTEGRATED FEET MASSAGER AND INFLATABLE SEATING AREA
Brand new to the Lay‑Z‑Spa Maldives is the innovative integrated seating area with removable back rests. Providing an added layer of cushioning, this inflatable seating arrangement is great for those who want or need a little extra support during their Lay‑Z‑Spa sessions. With the ability to add or remove the inflatable back rests, you can configure the Maldives to create an ergonomic seating area that is right for you. Including the built‑in feet massager, you can truly sit back, relax and indulge.

COLORJET WATER POWERED LED LIGHTS
Now you can enjoy a spectacular display of colour from the comfort of your Lay‑Z‑Spa with the ColorJet water powered LED lights. Making your spa sessions even more enjoyable, the variety of soft ambient lighting colours make the mood just right.

PREMIUM FEATURES IN ALL LAY‑Z‑SPAS
Freeze Shield™ technology, premium DuraPlus™ Material, easy 5‑minute setup, energy saving timer, advanced safety features, ChemConnect™ dispenser, digital display panel, built‑in cup holders, inflatable lid and reinforced insulating cover with safety lock clips.
1,050 Litres (277 Gallons)
220-240V~50Hz, 2,050W at 20°C, Class II
1,325 litres per hour (350 Gal/h)
1 Colour Box: 96cm x 83.5cm x 75cm 1 ea. 79.8kg (176lb)