AWARD WINNING
Our innovative range of premium hot tubs have received multiple awards from the likes of Real Homes and T3.
UP TO 2 YEAR WARRANTY
Our hot tubs are covered by our extensive 2 Year warranty, so you have complete peace of mind.

DEDICATED SUPPORT TEAM
We're always here to help & offer advice with our dedicated UK based Aftersales Support Team.

QUICK & EASY 10 MINUTE SET UP
All Lay‑Z‑Spa models are inflatable and portable. Requiring no professional installation or tools.
INTRODUCING THE LAY‑Z‑SPA HOLLYWOOD AIRJET™

COMFORTABLY FITS UP TO 6 PEOPLE
The Lay‑Z‑Spa Hollywood AirJet™ is suitable for 4‑6 people making it the ideal space for friends and family to relax. It also includes 4 brand new soft‑touch Lay‑Z‑Spa pillows.

40°C RAPID HEATING SYSTEM
The Lay‑Z‑Spa pump's rapid heating system heats the water to a relaxing 40°C and can be used with the energy‑saving timer. With our hot tub technology, you can heat the hot tub, run the massage system and filter the water all at the same time.

140 AIRJET™ MASSAGE SYSTEM
The Lay‑Z‑Spa Hollywood AirJet™ features an invigorating AirJet™ massage system that is made up of 140 all‑surrounding AirJets for complete that offer a soothing spa relaxation experience.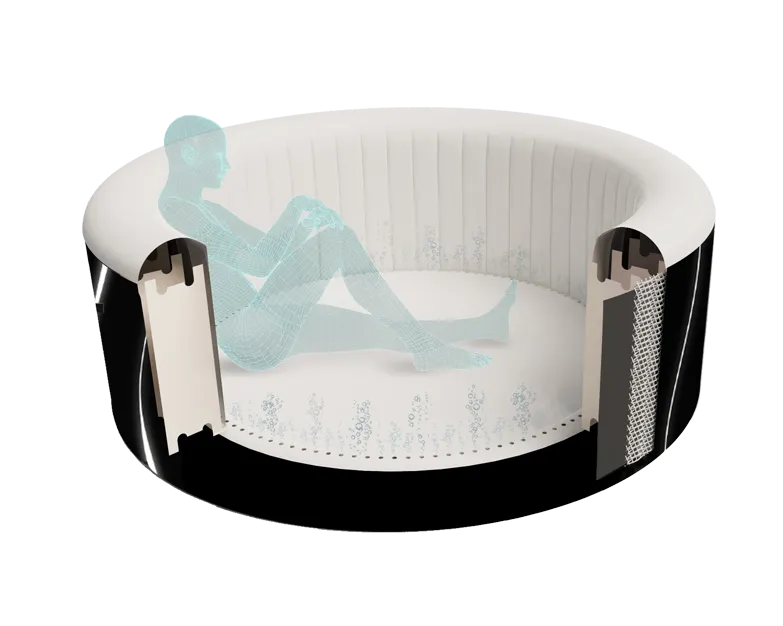 LED LIGHTING SYSTEM & SEMI‑TRANSPARENT LINER
The remote‑controlled multi‑coloured LED lighting shines through the semi‑transparent liner to illuminate the water and creates beautiful patterns through the designs outside the liner

PREMIUM DURAPLUS™ CONSTRUCTION
Ultra‑strong stress‑tested DuraPlus™ internal beams and outer walls offer superior structural stability and cushioned comfort. This superior‑strength material allows for durability no matter how many times it is inflated or deflated.

PREMIUM FEATURES IN ALL LAY‑Z‑SPAS
Freeze Shield™ technology, energy‑saving timer, ground fault detection system, ChemConnect™ chemical dispenser, digital display panel, built‑in cup holders, insulating inflatable lid and reinforced cover with safety lock clips
220-240V~50Hz, 2,050W at 20°C, Class II
1,325 litres per hour (350 Gal/h)
1 Colour Box: 77cm x 55cm x 57.5ocm1 ea. 39.56kgs (86lb)